---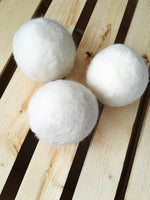 ••This listing is for *one* dryer ball••
Soften Your Clothes without the Harmful and Toxic Chemicals found in Fabric Softeners and Dryer Sheets.
Eco-Friendly, fragrance free and hypoallergenic. Perfect for babies and sensitive skin. Eliminates waste. 100% Biodegradable & Reusable for 1000+ loads. Extends the life of your clothing. 
Speeds up drying time by 20%-40%, saving money on electricity and dryer wear & tear. Leaves laundry NATURALLY SOFT without dryer sheets or fabric softener. Anti-static properties reduce wrinkles, static cling and lint for all types of clothing. 
Recommended to use a minimum of 3 dryer balls per laundry load