---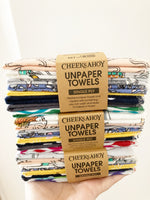 ••Assorted random fun prints. This listing is for one set of 8 assorted unpaper towels••

Eliminate the use of paper towels and napkins with this eco-friendly replacement! PERFECT FOR ★wiping messy hands and faces after meals ★spill clean-up ★washing and drying dishes ★mealtime napkins ★lint-free cleaning and dusting Always keep a spare or two in your pocket to use as a handkerchief (that's right, we said it), or to have as an emergency wipe. Can be easily rolled around the included kraft tube to use with your paper towel holder.
Each unpaper towel is single ply and measures 12"x10".
Fabric content: 100% cotton.
Care instruction: Machine wash.
Do not use fabric softener or dryer sheets as they can decrease absorbency.
Handmade in Ontario, Canada