---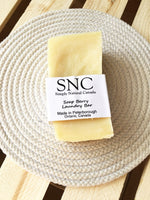 Want an effective stain bar but one that's all natural, scent-free and without harsh chemicals? Our SNC Soap Berry Laundry Bar may be just what you're looking for.
Use to wash clothes and/or remove stains.  Apply to garment, add water, rub in and rinse.
Ingredients: olive oil, sunflower oil, vegetable oil, sodium  hydroxide, soap berries, coconut milk, distilled water, washing soda and citric acid.