---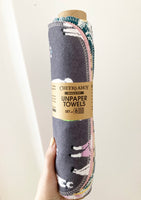 Eliminate the use of paper towels and napkins with this eco-friendly replacement! PERFECT FOR ★wiping messy hands and faces after meals ★spill clean-up ★washing and drying dishes ★mealtime napkins ★lint-free cleaning and dusting Pre-rolled on a sturdy 100% kraft paper tube, use with any paper towel dispenser.
Assorted fun prints 

Made from 100% cotton flannel.
Each unpaper towel is single ply and measures 12" x10".
Fabric content: 100% cotton, kraft paper tube.
Care instruction: Machine wash.