---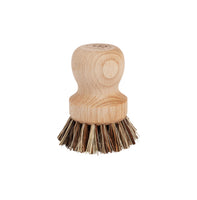 Washing dishes is no longer a chore! Made with beechwood and union fibre, this all-natural brush is ideal for cleaning pots, pans and sticky kitchen messes.
Feel good about this natural cleaning tool, free from plastic packaging that can make its way into oceans and waterways.


Redecker is a family-owned company based in Versmold, Germany
Founder Friedel Redecker earned his living as a brushmaker after becoming blind as a child. His inventiveness, sense of quality and persistence brought about a company that has sold high-quality, natural products for three generations.
Sustainable Practices
Every Redecker product is critically inspected and thoroughly tested by family members and employees before making it to our warehouse in Calgary. The Redecker line offers modern luxury in a range of hand-crafted and practical household items.